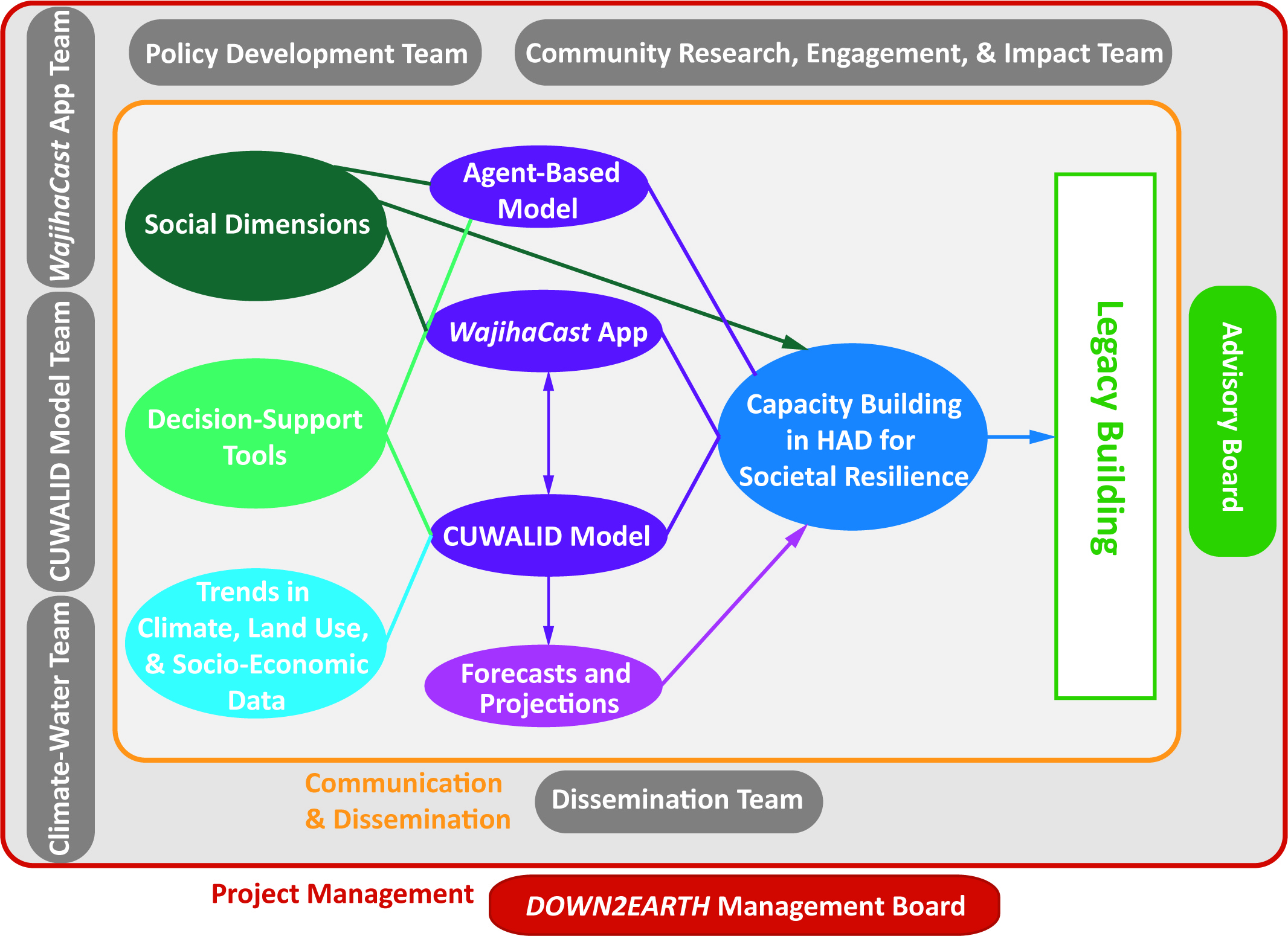 Efficient, fair, and participatory project management is critical to the success of large research and innovation effort such as DOWN2EARTH. All Board and Thematic Team meetings described below will operate based on a simplified version of Robert's Rules of Order, which were developed to ensure that meetings are fair, efficient, democratic, and orderly. Such 'parliamentary procedure' ensures that all voices are heard and that all concerns are addressed and discussed by team meeting members before voting ensues. Voting within each team and board will be carried out based on simple majority, and all votes (including absentee participants) will be tallied before a final decision is made on any topic.
Management Board

The DOWN2EARTH Management Board, consisting of a gender-balanced collection of PIs from each partner in the consortium, will be responsible for ensuring the overall intellectual integrity and vision of the project, milestones are met, risks are mitigated, and deliverables are created and disseminated in a timely manner. The Management Board will meet at least quarterly and have a clear view of the entire project through its interactions with various thematic teams carrying out the work in DOWN2EARTH. The DOWN2EARTH Management Board will be responsible for overseeing and directing the research and implementation activities, ensuring fruitful interactions between WPs and Tasks, and for mitigating risks and addressing any issues that arise during project implementation.
Project management will also include six Thematic Teams that will meet at least twice a year to ensure continuity of key cross-cutting aspects of the project: 1) Community Research, Engagement and Impact (CREI) Team; 2) App Development Team; 3) Model Development Team; 4) Climate/Water Data Team; 5) Policy Development Team; 6) Dissemination and Communication Team. These teams will work to ensure thematic milestones are met and deliverables are produced in a timely manner. They will also serve as the intellectual glue that connects project participants and galvanizes their energy toward the creation of new knowledge. Additionally, we will hold ad hoc meetings that span multiple thematic teams in order to support overall communication, synergy across the consortium, and cross-fertilization of ideas.
The DOWN2EARTH Advisory Board, consisting of key project stakeholders, will meet twice a year: ensure uptake of project information and adoption of project deliverables; seek out new funding opportunities to expand the scope of the project; and enable aspects of DOWN2EARTH to continue beyond the project lifetime. The Advisory Board is the primary mechanism of extending impacts from DOWN2EARTH more broadly in the HAD region and internationally, while also strengthening aspects of the project that show great promise with further investment. A link to Advisory Board members will be posted soon!
Sister Project Coordination

The DOWN2EARTH team is proud to work alongside two other EU Horizon 2020 projects, CONFER and FOCUS-Africa funded under the same call. We are working closely together to integrate our project work to exploit potential synergies and learn from collective experiences. Thus far, we have planned several cross-project activities including: membership on each other's advisory boards; a webinar series (1-2 times per year highlighting key project results of broad relevance); thematic team meetings that address common project goals (e.g., forecasting, modeling, dissemination, communication); joint co-creation of climate service(s); a joint policy brief; researcher exchanges; and a final joint workshop to collate and group project outputs and impacts, and discuss next steps.